There are three different offers right now from Julep.  Choose the one that YOU want!
Cupid is in control this month and wait until you see the beautiful wristlet and two top coats that come in every Mystery Box from Julep! February's Mystery Box contains more than $100 of product for only $24.99 – another exceptional value. FEBRUARY MYSTERY BOX OFFER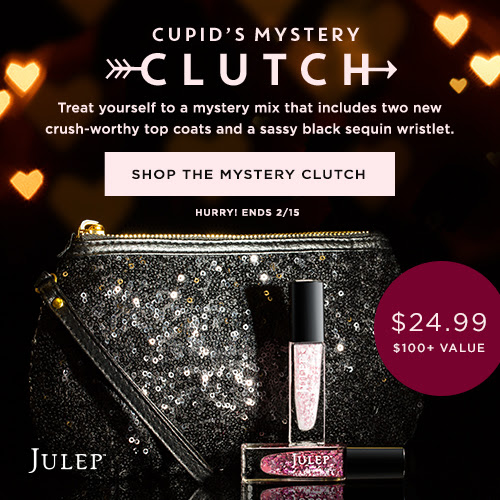 Cupid and I say treat yourself to a crush-worthy mystery mix this month! Each Cupid's Mystery Clutch will include two crush-worthy top coats and a sassy black sequined wristlet – and the rest will be a surprise! The total value of the box is $100 which makes it top rated value at only $24.99.
Offer expires on 2/15/2015 at 11:59pm PT, or while supplies last. Every Mystery Clutch Box will include the featured clutch and Julep Color Treat in Yuki and Valentina. Other products vary. Purchase of multiple Mystery Boxes may result in polish or product overlap. Offer may not be combined with any other promotional offer or discount (e.g Maven 20% discount). No exchanges or returns are possible on Mystery Box, individual items, or add-ons. Estimated full retail value is at least $100 for all Mystery Clutch Mystery Boxes. Taxes vary by location.
It's February and love is in the air! We have two new Maven Welcome Boxes for you – the February Birthstone Welcome Box and a very special Bridal Welcome Box. P
Free 4-Piece February Birthstone Welcome Box for New Maven Subscribers
Disclosure: This post contains affiliate links.
Calling all February birthday girls – Julep Maven's February Birthstone Welcome Box is free for new subscribers and includes three nail colors and a fan favorite beauty product bringing the value of the box to $58 (just pay $2.99 shipping). A Maven beauty box subscription is one of the best values going and as a Julep Maven subscriber, you get first access to trend setting colors and top-rated beauty products every month.
Julep Maven is affordable. Every month you get more than $40 of full-size products for just $24.99 per month (tip – prepay for three months at a time and save $15).
Julep Maven is the only customizable box of full-size, limited-run nail colors and beauty innovations. That means no surprises, no dupes or colors you don't like. You can see what is in your box each month and have the option of swapping out colors/products you already have or don't want.
Julep Mavens get 20% off all single product purchases, free shipping, early access to secret sales. If you are passionate about your polish, that adds up to some amazing savings!
Get started now! Join Maven and get the Birthstone Welcome Box FREE ($58 value) – just pay $2.99 shipping with code ONYXor get your Welcome Box FREE when you pre-pay for your first three months. Either way, you are going to LOVE being a Maven.
***
Say YES to Maven with the Bridal Welcome Box Offer
Disclosure: This post contains affiliate links.
Even if you aren't a bride, this box of beauty is too good to pass up! Treat yourself to a monthly beauty box subscription from Julep starting with this uniquely curated Bridal Welcome Box, perfect for the wedding season. The Bridal Welcome Box includes 3 gorgeous nail polishes and a fan favorite beauty product. As a bonus, you will also receive a $20 Julep.com gift card putting the value of this offer at $78.
Get started now! Join Maven now and get a Bridal Welcome Box and a $20 Julep Gift Code.