Since I have an eye infection and have been instructed to wear my glasses instead of my contact lenses AND not wear any eye makeup, I feel really yucky about my appearance.  I LOVE my eye shadows, liners, and mascara and really miss the creativity aspect of choosing an eye look.
This has meant I've had to find enjoyment in blush and lip products this past 10 days so here's a couple items that have made me feel a bit better about myself.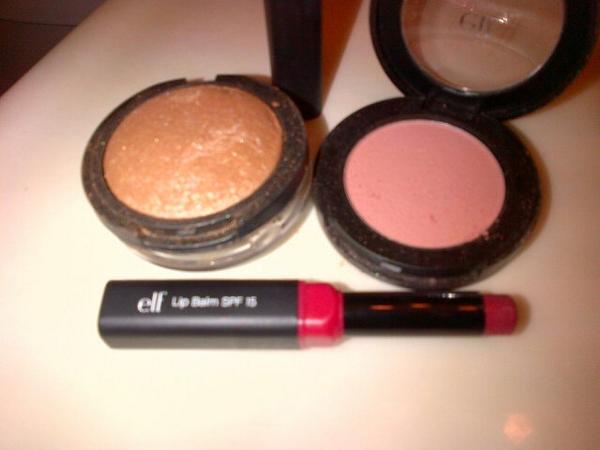 e.l.f. Baked Bronzer in Maui I've mentioned before and have been using non stop since I purchased it.  You can read more by clicking this blog post link.  Great to warm up the face and for contouring, although when wearing my glasses I found contouring my cheeks didn't look quite right.
e.l.f. Mineral Pressed Blush in Sweet Retreat is an item I am using to transition to fall when I'm wearing cool colours for clothing.  I keep it off the apples of my cheeks where I have some redness and I like how that looks with my glasses.  I use my Mary Kay Cosmetics Cheek/Blush brush for application.
e.l.f. Lip Balm SPF 15 in Rose is a berry shade that works well with pink, green or blue tops.  It moisturizes the lips, has some sun protection and the colour pay off is great.  I also like that all these products cost less than $6.00.  You can buy them all at this e.l.f. cosmetics link.
Note: if you get an eye infection you will have to throw out your mascara, liners, contact lenses, their case, wash all your brushes thoroughly, and also toss your cream eye colors and whatever powder shadows you recently used. Thanksfully I had been home and without eye makeup (other than mascara) for a couple days, so didn't have to part with more than 2 items. You'll see those in an upcoming empties post, even though they aren'y empty, just infectious.
What products have you been using lately? Leave me a comment below.
---
All items for review were purchased by me with my own money.  I give my honest opinions about all products. Some links in posts are affiliate links, giving me a small commission. Thank you for your support.